The Phallosan Forte penis enlargement system features the unique distinction of being tested by a German urological clinic. One of the most prestigious medical journals, "The Journal of Sexual Medicine, " published Phallosan's results in 2006. In addition, numerous satisfied customers have responded with details regarding their successful Phallosan results.
Phallosan Forte Results from the Clinic
Dr. Sohn, a chief physician for the Urological Clinic at the Markus Hospital in Frankfurt, commissioned an official study to determine whether Phallosan Forte works. Along with testing for penis length and girth increases, the clinic assessed the device's ability to treat medical conditions such as Peyronies disease and penile shortening due to urological surgery.
The medical facility verified that Phallosan's results are enhanced when users wear the device for more extended periods by testing the device according to the amount of time worn. The number of months men wear our penile extender also makes a difference.
Stretching the penile tissues causes the body to create new cells producing increases in length and girth. The unique design of Phallosan Forte allows the user to wear the device for extended periods without noticing it at all. Results are directly proportional to the length of usage, and because it can be worn for up to 10 hrs per day, users can expect significant improvements in both length and girth.
Our device also increases the size of the glans. Many years of research and development have made our product improve over time and provide better results. On the glans, a protector cap is placed, and a vacuum is created. The vacuum is applied to the whole penis resulting in a proportional increase of your entire penis. This produces a more satisfying result for users.
One of the best features of our device is its ability to be worn at night. During one's sleep, people tend to change positions and can have nightly erections. You can sleep on your stomach, side, or back because the unit is worn against your body and won't fall off if you move around. The same is the case with nightly erections. The sleeve around your penis will expand if you have an erection and will not dislodge. This is especially useful for people who have busy routines and do not have the time to wear the device during the day.
A redesigned protector cap is also included in our device to increase comfort. There is virtually no chance of any irritations or discomfort by only exerting a slight pressure on the skin's surface, much like the pressurised suits of jet pilots. Materials used have been tested for biocompatibility and are completely safe for contact with the skin.
The effectiveness of Phallosan Forte depends on how long you wear the device. We recommend you start with 4 hours per day until you become thoroughly acquainted with its usage and then progressively increase the length of wear for faster results. For optimal results, we recommend 10 hours per day.
The clinical study clearly showed Phallosan's results are positive. Men who wear our device frequently and consistently can increase the length and girth of their penises. The clinic also confirmed Phallosan Forte has a high level of patient satisfaction by bringing the participants back 12 months after the study and recording their feedback.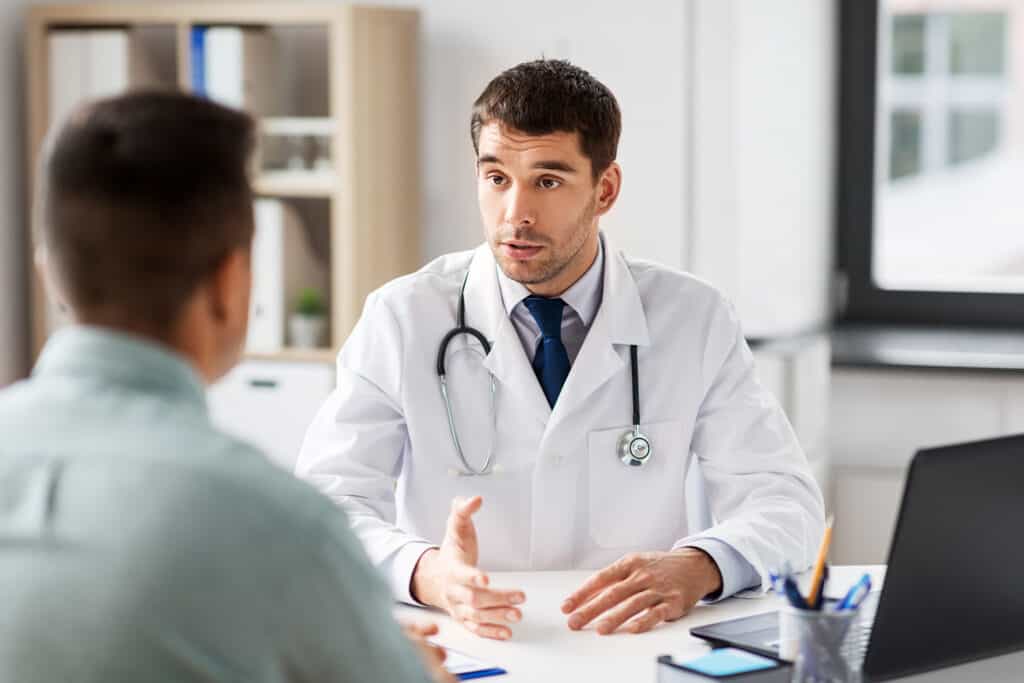 Results for Those with Medical Conditions
In addition to testing those who wanted larger penises, the study also included men who had trouble performing sexually following prostate surgery and those with diabetes. One man who suffered from induration penis plastica, a condition involving curvature of the penis, was also a participant.
Patients verified that after wearing Phallosan Forte, their penises were more sensitive. They also experienced harder erections. After using the device over an extended period of time, several prostate surgery patients confirmed that they could abstain from prescription medications for erections without losing the quality of their erections. Phallosan's results for diabetics were also positive. After using the extender, they reported more rigid erections and more sensation.
The patient who suffered from induration penis plastica saw a significant decrease in penile curvature and was extremely happy with the final result.
During the German urology clinic's penis measurements, one of the facility's urologists took each size. Witnesses were present to confirm Phallosan's results.
What Wearers Have to Say
Patients have been quick to confirm the device's comfort. This is a significant factor since longtime wear greatly improves Phallosan's results. Product users have reported they can wear our device continuously for ten or more hours each day.
According to one user, the device even softened the scarring he received following an accident requiring a skin graft. He reported that our product helped prevent a future surgery and that the flexibility of the device allows users to wear it in nonconventional ways according to their needs.
Another wearer stated that he wore Phallosan Forte while sleeping, spending time with friends and even when he was physically active. He confirmed that it doesn't constrict blood flow or cause pain if a spontaneous erection occurs.
One reviewer noted that as his penis grew in length and width, his sex drive also increased. He suspected that this particular result was likely due to seeing the size increase, so he related it to a better mental state, but he appreciated the effect regardless of the reason.
Along with the clinical trial proving the lengthening and widening effects of our penis extender, numerous customer testimonials have also verified it. One user reported that his penis length had a significant improvement after wearing the device. Another user reported a substantial gain in girth. A third confirmed that his penile curvature had reduced to such a degree that he could engage in sexual intercourse again.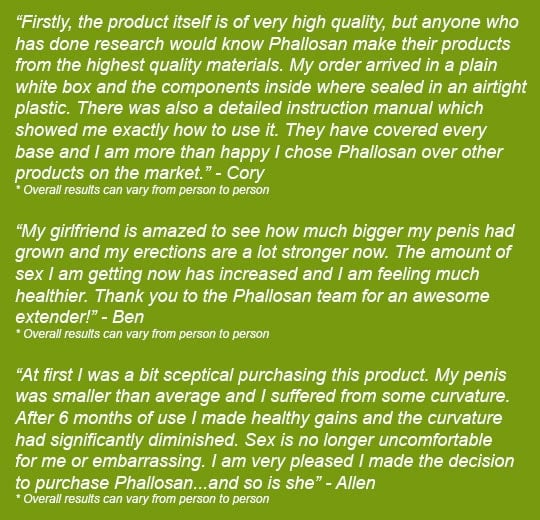 A Penis Extender that Works
With continuous wear, Phallosan Forte can make your penis longer, wider and straighter. Customer testimonials verifying Phallosan's results combined with the German urology clinic's findings are sure to give you peace of mind regarding the product's claims and effectiveness.